In April 2019, I crossed the King Hussein Bridge from Jordan into Israel. There are a couple of other blogs out there I found, but none seemed to give as much detail as would like to have had, so here is my account.
Notes and Preparations
This blog details the crossing at the King Hussein Bridge (also known as the Allenby Bridge) from Jordan into Israel. There are other border points, but this is meant to be the easiest one, as long as you already have a Jordan entry stamp/visa*. All you really need is to be somewhat prepared and to have some patience. Please make sure to know details about your trip to Israel, as you will be asked – which hostel/hotel you're staying in, what you will be doing there and how long you'll be there. Also have a copy on your phone or printed-out of your return flights if possible + make sure to have some cash on you to pay for the bus crossing. There is a Bank of Jordan at the border, but having some cash to start with, saves any extra bother(there are several ATMs in central Amman). Due to the interview and times taken give yourself about 4 hours to cross this border.
* = you usually get a Jordan entry stamp/visa on arrival at the airport or wherever. If you do not have one, then use another crossing, as the King Hussein Bridge does not issue visas.
Important other note – The Israeli Entry Card
In case you don't know, Israel do not (generally) stamp your passport anymore. This is due to all the problems you can encounter entering certain Islamic nations if you have an Israeli stamp in your passport. Instead, they give you a ticket/card/paper visa that stays in your passport through-out your Israel visit and which is removed when you leave the country.
Oh yes, also Beware the Jordan entry stamp!
Crossing this border is all well and good, but it's very sensibe to plan to come back via this border or another Jordanian border – rather than flying out of Israel. The reason for this is you get a Jordan entry stamp in your passport when you enter Jordan and an exit stamp when you leave Jordan, BUT if you fly out of Israel you won't get a Jordan exit stamp! To any keen-eyed border guard who can be bothered, it'll be pretty obvious what you did here and he'll rightly assume you visited Israel. Problem is, if you happen to visit Syria, Lebanon, Libya, Kuwait, Iran, Iraq, Pakistan, Sudan or Yemen on the same passport, they may well reject you at entry. My original tri itinerary was Holland, Beirut, Amman, then cross from Jordan into Israel, tour Israel and then fly out of Israel back to Europe, BUT after realising this and there being a slight chance I might visit one of those nations(oh the love of random travel), I had to re-schedule my trip to cross back into Jordan, visit Petra(was a great decision have to say), before flying home from Amman(Jordan). If you cannot be bothered with this hassle then just fly in/out of Israel and visit Jordan as a side-trip BUT AVOIDING the King Hussein / Allenby Bridge crossing – as the other foot crossing do give visas on arrival (Wadi Araba Crossing or Sheikh Hussein Bridge crossing).
ANYWAYS Crossing the border…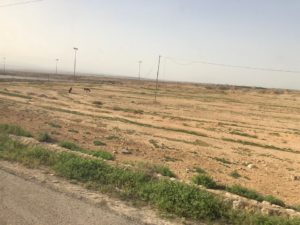 I stayed in the fine Farah Hotel in central Amman and totally recommend this place and their wonderful staff. They sorted out a taxi from the hotel to the King Hussein Bridge(about 25JOD), which took about an hour.
The taxi drops you off just outside the border crossing – it's a dusty, untidy, wasteland sort of place. TBH it looks like you've been dropped in the middle of nowhere. There aren't many helpful signs, so I kind of wandered into the border crossing area, carrying my full backpack. Now, do NOT go to the "Departures" sign where the bus is! Firstly you need to get your passport sorted out first. To do this, just go to the "Public Relations and Tourism" entrance, which is next to the Bank of Jordan outlet. Go to the "Departures" booth and fill in the small white passport form they give you. These guys don't say much, but if you ask, they are most helpful. They will stamp the white form and give you the passport back. Then go to the Arrivals booth(opposite) and give them your passport. They will tell you to wait.
Leaving Jordan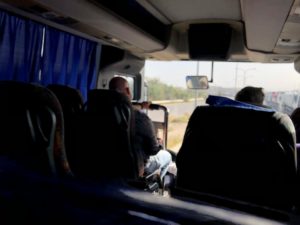 After a short time, they'll take you(with your passport) to the bus(outside by "Departures") which takes you over the border. You have to pay for the journey across No Man's Land. It cost me 8.5JOD with 1 piece of luggage(my large backpack).
There's a lot of stuff on the net about times when to cross the border, but I crossed about 4:30pm on a Sunday and there were 4 of us on the bus!
Anyways, the bus drives off and then there is a passport inspection at the Jordan border, whereby they take the small white passport form out of your passport and keep it (as a record of you leaving Jordan). I assume this is where they give you the Jordan exit stamp too.
The bus then heads towards the Israeli border and there's a stop as it's checked for bombs, which is quite reassuring really. Once that's over, you drive a bit further and finally arrive at Israeli passport control! This far it's EASY! Next up though is the part famous amongst travelers!
Israel Passport Control – be honest and know your stuff, folks!
If you're in a tour or group of some kind, you probably have a big advantage, as you'll likely just be questioned a bit by the passport officers, but won't get stopped for an interview.
The Israeli passport officers question you in the toughest manner I've known, it's like a higher level version of the US passport officers. The fact I was on my own seemed to immediately arouse suspicion, but the key is to just to be honest and answer as best you can + try to keep up with quickfire questioning! Now, I knew where I was staying in Jerusalem, how long I was there for, that I was joining a church group for a 10 day tour of Israel, BUT I didn't know the exact itinerary of every single day of the tour and so this was good enough for the lady to withhold my passport and tell me to go sit down and wait, along with all the other dodgy types sitting and waiting 😀 did make friends with a guy from the USA who's mother was born in Syria(I think) and we had a fun discussion about Brexit and President Trump.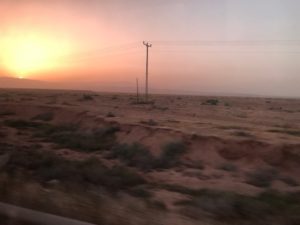 About 30 minutes later a guy holding my passport called my name and took me to the infamous interview. They take you to a private room, away from everything, which helps the whole intimidating atmosphere. To be fair, it was about the same intensity of questioning as by the previous officer, but he asked a lot more questions! He asked why had I been travelling alone, wanted to see my return flight ticket/details and even asked me why I was shaking! I said I didn't feel nervous, although in hindsight I probably was, as it was so intense 😀 All in all it probably took about 15 minutes. He then sent me to sit again and said somebody would bring my passport back. My US friend had disappeared to his interview, so I sat around for another 20 minutes and then my passport was returned and I was free to go.
After this I had to show my passport once more, along with the prized Israel entry card(whatever you do, do not lose this) and then walked out to catch transport to Jerusalem! It had taken about 1.5hours to clear the famous Israeli passport control.
Onwards to Jerusalem!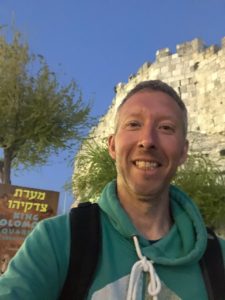 Once outside, you can then get a shared taxi to Jerusalem(which was 50Shekels) or there were others to Jerico. It takes about 40minutes to get to Jerusalem and was quite a scenic trip through the hills as the sun set.
One Last Passport Check: Before you enter main zone of Jerusalem, because you are traveling from the West Bank, there's another passport check as you enter, so prepare for that too 🙂
Crossing the border back from Israel to Jordan
This experience of crossing back into Jordan from Israel was a bit different for two reasons. First I did it from Tel Aviv in the afternoon and second, crossing the border was a lot quicker.
Tel Aviv to Amman in an afternoon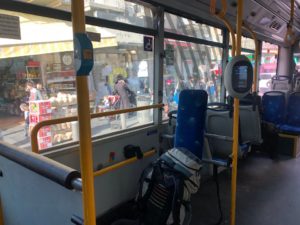 I took Bus 405 from Tel Aviv to Jerusalem, which takes about 50mins, mine left at 3:20pm and arrived at 4:10pm. Then caught local Jerusalem Bus 1 to Sultan Saliman, which takes you to near the Golden Walls Hotel, just outside the city walls. It was the day before Passover, so areas of Jerusalem were very busy with Jews getting ready for everything being closed that weekend, it was most interesting to see.
To the right of the Golden Walls Hotel is an entrance to a shared taxis lot, here you can get a ride to the King Hussein / Allenby Bridge border. As it was late afternoon and inspite of some hard haggling, they charged me 120 shekels, there were only 2 of us going there and yes this was a rip-off, but I had no choice. Apparently it is a lot cheaper before 1pm.
Leaving Israel
Due to volume of freight traffic, we queued for about 30mins just to get past the Jordan border checkpoint, where they checked passports and whether we had any weapons. They also did a bomb scan. The taxi dropped me at the point I recognised as being where I'd arrived from Jordan. This time, you follow the line on the left to the Departures queue to have your bags scanned. After this you wander into a room and have to go to a separate desk to pay the Israel exit tax(they do take credit card). Make sure they give you an exit tax receipt.
Then you hit Israel passport control again! This time it's to get an exit permit. Again, they ask you some questions, but it's a lot less intense. I got asked "were you traveling alone?" and "What were you doing?". I answered I was on a church tour, with that the passport guy looked very disappointed at the lack of dangerousness in that and handed me my passport. Maybe he was hoping for me to say I was wild partying in Tel Aviv or something 😀 Following this there was an exit permit booth to check I did have an exit permit and had paid the exit tax. After that you're now ready to cross back to Jordan! This whole process took maybe about 20mins.
Re-entering Jordan
Next up, you wait for the bus that crosses No Man's Land again to the Jordan passport control area – depending on the time of day, it can be long wait for the bus, was standing there with a few others for about 30mins. Again they check your passport at the checkpoint entering Jordan.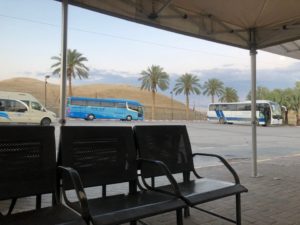 The bus turned up and cost 4JOD(bus was 2.5JOD and 1.5JOD for my backpack). It drives through No Man's Land and up to the Jordan passport control area. This time go to the "Arrivals" booth (next to the Passport booth and opposite the Departures booth where you went for the Israel border cross) and give your passport in. Wait for your name to be called. They check that you have a Jordan entry visa/stamp – which you should have got when you originally entered Jordan, I got mine at Amman airport. If you don't, you'll likely be sent back to Israel, as you cannot get one here at the King Hussein / Allenby crossing.
Once that's all sorted out, you can then wander outside the area and there are usually taxis waiting outside. I got there in the dark and was quite fortunate to share a taxi with nice lady who spoke good English to a suburb in Amman. She didn't like/trust the driver, so she made him take me to yellow metered taxi once we got within Amman. This metered taxi guy was such a good guy and only charged me 5JOD into central Amman, I gave him 10 as a tip 😀 then just a short walk to the Farah Hotel! All in a day!
Quick Summary of the Trip and How the Stamps and Visas work + costs :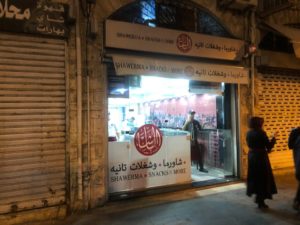 Land in Jordan at Amman airport – Get a Jordan entry visa/stamp in your passport (costs about £45).
Taxi from Amman to King Hussein Bridge(about £30)
Cross the King Hussein Bridge on the Jordan side by foot – they check you have a Jordan entry stamp and give you a small exit paper, but do not give you a Jordan exit stamp in your passport.
Enter the Israel side by bus(costs about £10), get interviewed and get an Israel entry card which sits in your passport during your visit to Israel.
Leave Israeli passport control, take shared shuttle bus to Jerusalem(about £12) and tour AMAZING, historical Israel.
Take taxi from Jerusalem to King Hussein Bridge (about £30 in my case but go earlier in the day and you only need to pay £12)
Cross back again at King Hussein Bridge – pay Israel exit tax(about £40), get tax receipt and an Israel exit permit. They take back your Israel entry card.
Re-enter Jordan by bus(costs about £5) where they check you have a Jordan entry stamp/visa.
Get taxi back to Amman(about £55). Visit Petra, Dead Sea, wherever("beautiful Jordan", as my taxi guide said).
Leave Jordan at Amman airport – where they give you a Jordan exit stamp.
Summary: you now have a Jordan entry / exit stamp in your passport and no evidence you went to Israel! 🙂
Helpful Links:
Crossing from Jordan to Israel via King Hussein Bridge (Allenby) Terminal