This is a long blog write up of my trip to the Lake District in Feb 2017, it's purely for amusement and to (erm) write something. Back in 2007 I attempted to climb Scafell Pike and got lost on the mountains(another long story), so I decided to re-visit the place this year with my friend Paul. He's lived in the USA the past 17 years, so was well up for this trip to arguably the finest of English countryside.
Tues 14th Feb 2017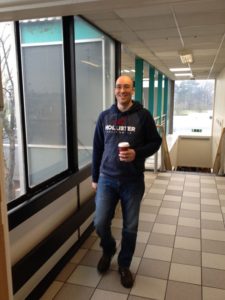 The plan for the morning: up at 8am, breakfast, pack car, 9am head to Wimbledon, go for 10km run, back by 10:30am, pick up Paul and head to Lancaster! I was signed up for the Hampton Court half-marathon on Sunday, hence the need for a run. Unsurprisingly, getting ready took longer than hoped and I got to Wimbledon around 10:30am! Picked up Paul at 11am and drove 5 hours to Lancaster University, stopping off at a service station for a spot of Costa and a Greggs baguette. A very helpful and informative bear of a man checked us into the uni and we headed to our room, which was most clean and pleasant. I then worked out this was probably the only day I could do a much-needed run, so that was the next priority. The booking.com reviews said there was a gym and sauna in this place, so we headed for the sports centre. Being gymophobic, Paul did not want to go to the gym and after being informed it would actually cost £12 + VAT + council tax, neither did I. Paul was kind enough to go back to the room and wait, so I went for an exploratory 7 mile jog instead – headed towards Lancaster Town Centre, then back and around the University grounds. Other than finally making it to Lancaster city limits(a goal of mine for many years), the definite highlight was the curious mirage towards the end, of hundreds of athletic young student women yelling and jumping around for netball practice, which you don't often see round where I live…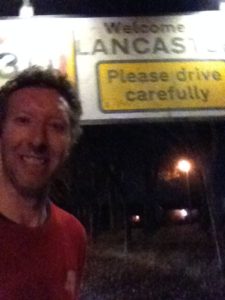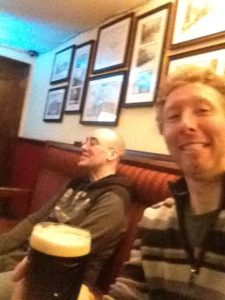 Our next plan to walk the 3 miles into Lancaster, was altered, thank goodness, to getting the bus instead. On the bus Paul noticed our tickets said "Return to Bowerman hotel" and despite Paul being quite keen to get off, we passed/ignored that place and stayed sat until the town centre.
We walked up to the castle, which had some nice night views and an interesting plaque about how it used to be a prison. Paul also got to see the railway station! After a bit of wandering, we ended up at the Brown Cow pub – which was a great place, with fine Guinness, except this was Valentine's night – so there was Paul, myself and about 2 other people. Still, we saw the Champions League shock defeat of Barcelona 4-0 to Paris St-Germain(the four of us cheered each goal) and the barman even said we could get a takeaway and bring it back! I was quite happy to do this, but we ended up going to Wetherspoons and grabbing some 'real' food(aka buritos) instead, which you prob should do after a 7 mile run. We caught the bus back and set the alarm for 6:30am!