Like many others, I've wanted to see the Amazon river since my Dad first told me about it when I was 5 or 6 years old. The biggest(and back then longest) river in the world! Then in October 2019, was lucky enough to find myself on a 3 week trip to Brazil, based in Rio de Janeiro. Had just gotten married and my wife randomly suggested we go and see the Amazon! What a Brilliant idea! So, after a quick bit of research, I discovered that Manaus is the main Amazon experience town and where most Amazon tours depart from + it's the cheapest Amazonian place to fly to in Brazil. So, booked return flights from Rio to Manaus town, for a 6 night stay and found a bargain tour to go on.
Then I discovered a slight problem!
The tour was all well and great, BUT upon checking the map I noticed it was primarily a "rainforest tour" and wasn't along the actual official Amazon river either! In fact it turns out Manaus isn't actually on the "Amazon", but sits on the Rio Negro river instead.
Now, my wife did not mind this one bit and am sure 99% of people that visit Manaus are booked on tours and don't mind either, most people really want to see the rainforest and the animals, BUT I really mostly wanted to see the Amazon river! So what to do?…
Well…it happens that the Amazon and Rio Negro do join forces about a kilometre down-river to the West of Manaus.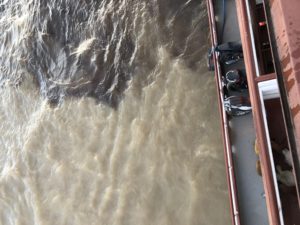 This point is called "where the rivers meet" and all tours visit it, it's particlarly interesting as there's a clear line and colour change in the water between where the two rivers meet. Despite this being on the itinerary of our tour, I had no idea and could not find out whether they'd actually sail us into the Amazon OR just up to the rivers-meet bit and then head off back down the Rio Negro to our jungle camp. Our tour emails said it would largely be along the more southern Rio Juma river instead and it was hard to find further details.
Three Ideas
So, I looked into ways of guaranteeing seeing the Amazon! Two ideas were :
A legit "Amazon River Cruise" at a mere cost of around £1500!! Nope, bit too expensive, so that one was out!
Discovered that Manaus may sit on the Rio Negro, BUT only 2 kilometres or so West via road is a township area that sits on the real Amazon(yay) river. Upon using Google maps I found there was even a small restaurant on the water front and you could get a taxi/Uber to a crossroads, walk about 1km and you'd get there! Verdict: Upon landing in Manaus and asking several locals/our-hostel about this, they described that area/idea as "dangerous", so nope that was out 😀
The Infamous BR319 Road
Not to be deterred, I then fortunately stumbled upon a trucker's tale about a fabled free ferry boat that links the infamous BR319 road between Manaus's Port of Ceasa and Porto do Careiro Castanho – it said this ferry travels 10km south west via the Amazon river! The details were sketchy and there was no timetable of course, but maybe it could be found at the port.
Note: The BR319 road is an 800km road that starts in Manaus and ends in Porto Velho, it's apparently famous for being the worst road in Brazil (see links below), cool eh.
Our Experience
So…the afternoon before our tour started we ended up getting an Uber taxi to the Port of Ceasa – it's about 20minutes away from the central Manaus. We had no idea where or when the ferry departed or arrived or when it would run until or where to get tickets etc. It was a Sunday and mid-afternoon and there was a fear it would stop at 4pm, as I've known other ferries of this type often do.
Anyways, Port Ceasa is quite a ramshackle port, it's in the industrial zone of Manaus and not some plush port terminal you might be used to Sydney, New York or Europe. There's no English signs for anything, the road by the water isn't paved and there is lots of rubbish strewn on the ground all over the place.
From the covered entrance area where the taxi dropped us, we wandered down a small hill towards the water's edge and to what looked like a jetty area where boats were departing from. To our left we saw a big old rusty plain looking metal ferry boat that had docked and was loading cars/vans onto it. We assumed this must be the ferry, but there were no signs about nor instructions nor information about how to board it! In hindsight we should've just walked up to it and boarded, but hey! Anyways, the main port jetty terminal bit, which was basically just a large platform in the sea that you enter by walking up a large plank, had many smaller jet boats docking there. We saw numerous tourists(mostly fishing parties) boarding these jet boats and zooming off. I asked in very broken Portugese for some help and eventually a very nice guy wearing a tour-guide jacket with remarkably good English tried to get us a ride, he asked a few of the boat guys, but told us they were mostly full up and the last one was just about to leave, which it did, not taking us! he finally found one guy who would give us a ride on the Amazon and to a floating water market as a half-day tour, but he wanted US$120! This was a lot of money for an hour's boat ride and so we declined. What was interesting is this boat guy didn't even bother trying to bargain with us, he clearly had enough tourists earlier in the day not to worry about it.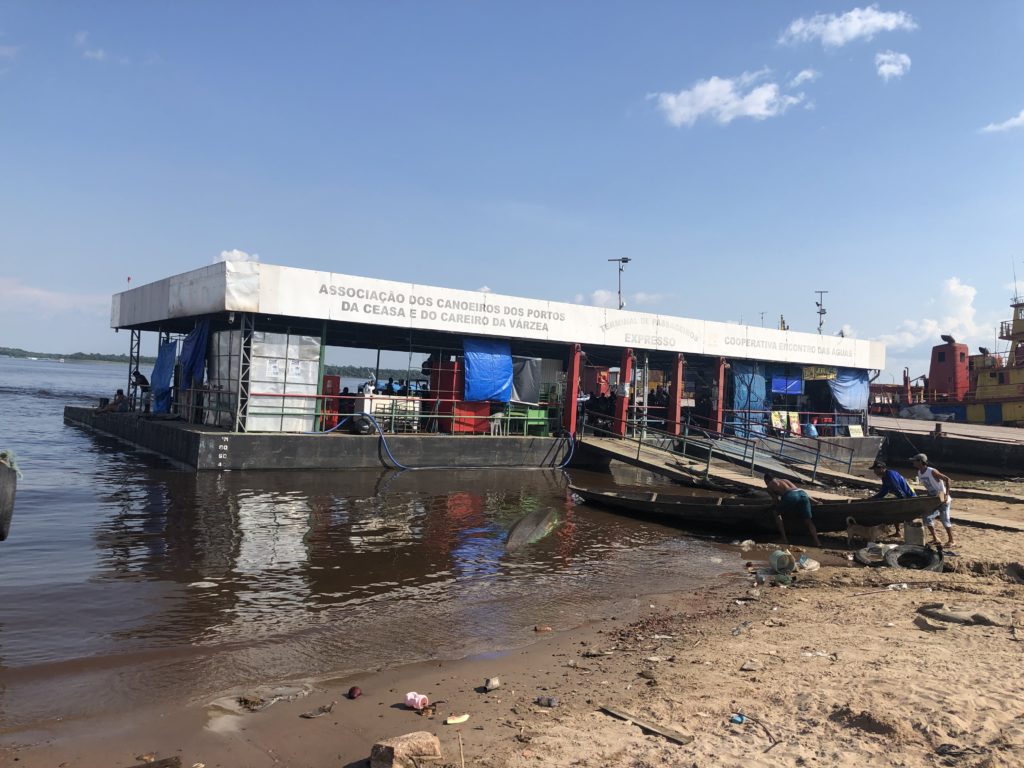 I then pointed to the car ferry and the helpful tour-guide guy smiled, said "aha!" and lead us over to it. He spoke to one of the crew workers and said jump on-board, pay that crew member 20BRL and you'll be fine! I'd been most concerned about getting back before dark and the guy checked and said yep it'll be back later this afternoon, "at some time".
Note: 20BRL = about £4 so can't really complain.
It was after 3pm and traffic to the port was quite slow, this meant we had to wait about 45mins in the heat for the ferry to set sail. This did kick off a feeling of excitement in me + a bit of adrenaline as still had no real idea where this boat was going, BUT it was well worth it! 😀 once it got going, we had a most wonderful and enjoyable ride across to Porto do Careiro! the ferry is very basic, but you get a superb view of the rivers, including the spectacular and mysterious "where the rivers meet" bit, you also get to see all the other boats on the river from above and the general lush rainforest landscape of the area! the ferry was almost empty so we kind of had it ourselves too, which was most pleasant.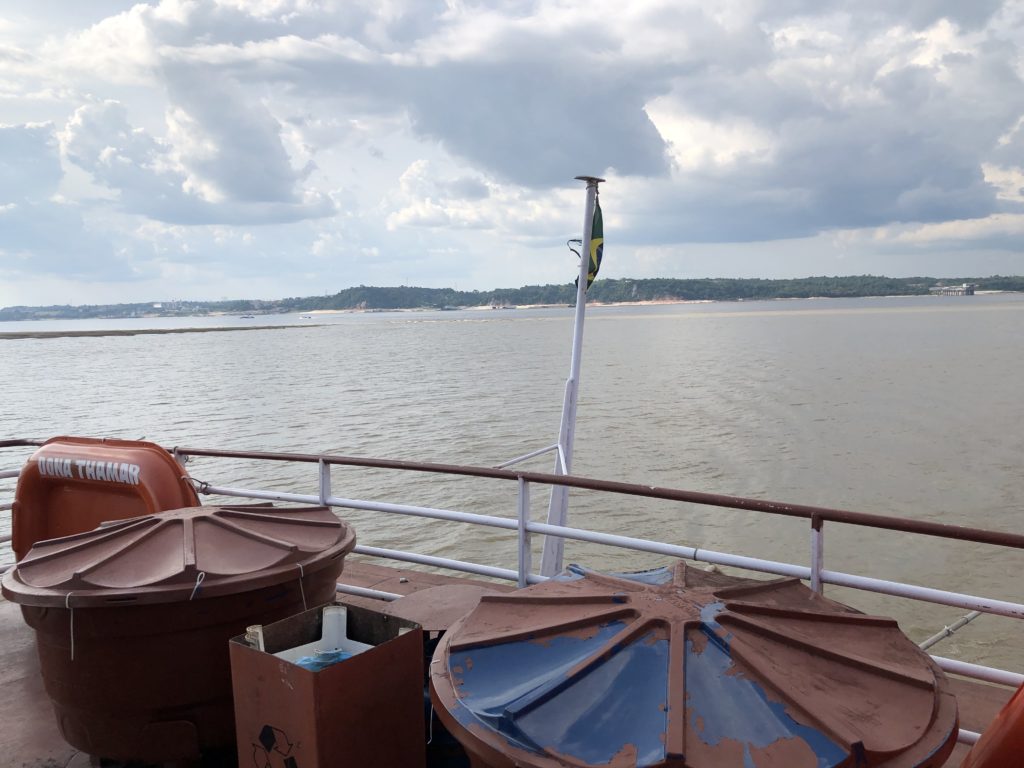 Once landed at Porto do Careiro, we got off, took a quick look around at the various market traders and their stalls, put our feet in the water to say we'd dipped in the Amazon(don't recommend this, the water is not clean), then got back on board.
Getting back to Manaus was just a case of waiting for enough vehicles to load up, which happened quite quickly, as there was a long queue waiting. We prob could've waited until the next ferry, but we had no idea where we were, what else was about or if it was safe after dark(it prob was) etc. so decided to return to Manaus. The sun was going down and we were treated to a very nice sunset and picturesque ferry cruise back. There were a lot more people on board this time and we even got ice-creams. Returning to the hostel was just a case of wandering back up the hill to the car entrance and getting a taxi to central Manaus(we could've ordered an Uber and we did have to haggle down to a reasonable price, but I thought it best to give one of these taxi guys some business).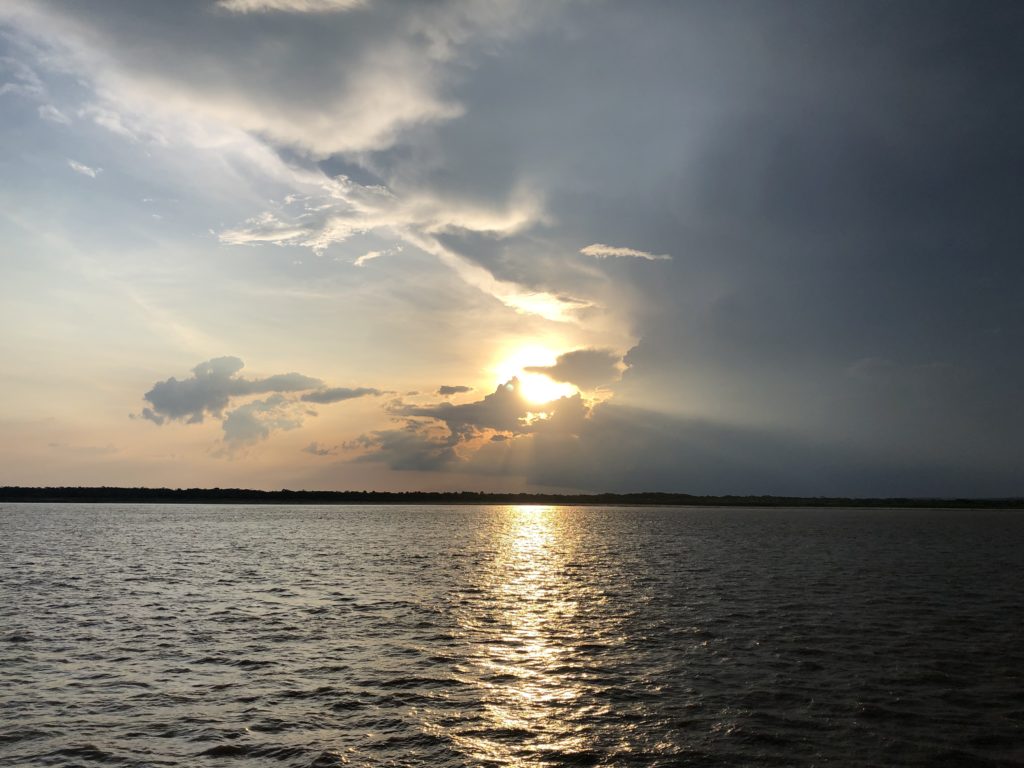 Things we learnt and to know in case you go :
The ferry is free, you don't need to pay 20BRL as we did, just walk over to it and get on! I don't regret paying and honestly don't see it as being ripped off, just call it tourist tax, it was part of the adventure into the unknown + the experience + maybe it helped out the ferry crew guy a bit.
The ferry (allegedly)runs from 5am – 8pm between the two points each day, the BR319 road is a major connecting road and this ferry is a very important link across it.
The ferry ride lasts 45mins in each direction.
The ferry departs when it's full or nearly full of cars/vans. You may have to wait a while for this to happen depending on the time of day and how busy the road is. Apparently morning is way busier than afternoon on the Manaus side. We were there about 3pm and it took at least 45mins to load up, that was mostly waiting for enough vehicles to turn up.
There were way more cars at the Porto do Careiro side and it filled up in about 20mins on that side. Am guessing more traffic wants to head to Manaus than vice-versa.
Due to this there was a lot more people on the return journey, some guy even sold ice-creams for 1BRL each, so worth having a look around.
At Porto do Careiro there are lots of market stalls for fresh fruits, fish, vegetables(corn, melon), drinks and other things for sale. It really helps if you can speak some Portugese or least know a few numbers to bargain with.
The next day we started our official paid tour and what a fantastic 4 night tour it was(see links for more info). Ironically, first thing we were taken to Port Ceasa and put on a jet boat, taken to "where the rivers meet" and then across the Amazon to Porto do Careiro! so, just what we did but with less hassel, right? so…was it really worth?? well yes, am well glad and pleased we took the trouble of the car ferry, was my personal favourite highlight of 3 weeks in Brazil, seeing the Amazon River at long last! if you get a chance, do the same! 😀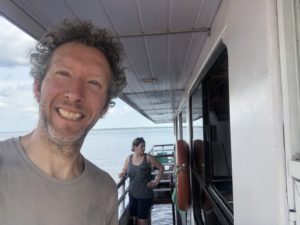 Overall, it's a Fantastic and very enjoyable, slowish 45mins ride across the Rio Negro and then the Amazon! you get to really enjoy both rivers and the interesting landscape around you. Personally think it was nicer than the fast, exciting jet boat ride that we went on our tour.
Note: Typed this up because I couldn't find it detailed anywhere else on the Internet, so hope it helps somebody.
Links :
Epic Drive BR-319 Travel – Trans-Americas Journey – This is where I found out about the Manaus car ferry!
The BR319: Brazil's Worst Highway – Fantastic blog about traveling this infamous road.
Mention of the free car ferry on TripAdvisor – just not many details about it.
Stack Exchange post about the ferry – at the time I really hoped the info in these 2 links was still valid.
Brazilian government info on the ferry from 2012
Manaus Booking – Rio Juma Jungle Tours – the awesome 4 night Amazon rainforest tour we did.
Gallery: