This is a long blog write up of my trip to the Lake District in Feb 2017, it's purely for amusement and to (erm) write something. Back in 2007 I attempted to climb Scafell Pike and got lost on the mountains(another long story), so I decided to re-visit the place this year with my friend Paul. He's lived in the USA the past 17 years, so was well up for this trip to arguably the finest of English countryside.
Tues 14th Feb 2017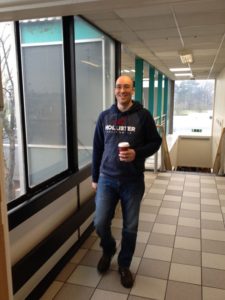 The plan for the morning: up at 8am, breakfast, pack car, 9am head to Wimbledon, go for 10km run, back by 10:30am, pick up Paul and head to Lancaster! I was signed up for the Hampton Court half-marathon on Sunday, hence the need for a run. Unsurprisingly, getting ready took longer than hoped and I got to Wimbledon around 10:30am! Picked up Paul at 11am and drove 5 hours to Lancaster University, stopping off at a service station for a spot of Costa and a Greggs baguette. A very helpful and informative bear of a man checked us into the uni and we headed to our room, which was most clean and pleasant. I then worked out this was probably the only day I could do a much-needed run, so that was the next priority. The booking.com reviews said there was a gym and sauna in this place, so we headed for the sports centre. Being gymophobic, Paul did not want to go to the gym and after being informed it would actually cost £12 + VAT + council tax, neither did I. Paul was kind enough to go back to the room and wait, so I went for an exploratory 7 mile jog instead – headed towards Lancaster Town Centre, then back and around the University grounds. Other than finally making it to Lancaster city limits(a goal of mine for many years), the definite highlight was the curious mirage towards the end, of hundreds of athletic young student women yelling and jumping around for netball practice, which you don't often see round where I live…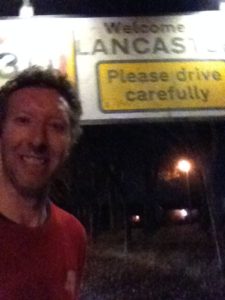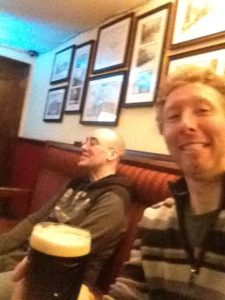 Our next plan to walk the 3 miles into Lancaster, was altered, thank goodness, to getting the bus instead. On the bus Paul noticed our tickets said "Return to Bowerman hotel" and despite Paul being quite keen to get off, we passed/ignored that place and stayed sat until the town centre.
We walked up to the castle, which had some nice night views and an interesting plaque about how it used to be a prison. Paul also got to see the railway station! After a bit of wandering, we ended up at the Brown Cow pub – which was a great place, with fine Guinness, except this was Valentine's night – so there was Paul, myself and about 2 other people. Still, we saw the Champions League shock defeat of Barcelona 4-0 to Paris St-Germain(the four of us cheered each goal) and the barman even said we could get a takeaway and bring it back! I was quite happy to do this, but we ended up going to Wetherspoons and grabbing some 'real' food(aka buritos) instead, which you prob should do after a 7 mile run. We caught the bus back and set the alarm for 6:30am!
Wed 15th Feb 2017
So, up bright and early around 7:30am (Paul did get up earlier) – we dined on a fine breakfast at the uni guest refectory place – Paul got confused about this being actually free, but other than wanting to pay for it and being sternly told 'no' by the dinner lady, he enjoyed a plate of bacon, egg, sausage and some toast! I had cereal, fruit, yogurt, bacon, egg, sausages, hash brown, toast, beans, black pudding, melon, fruit juice, tea + water, pain au chocolates and anything else I could find/put-in-my-pockets. Until packing up, I'd assumed we were actually staying in student digs, but turned out we had actually stayed the conference centre accommodation.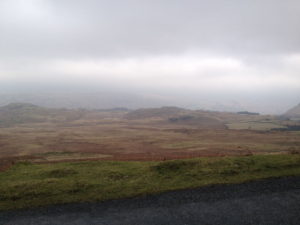 After navigating the way out, we headed North. Google Maps told us "Scafell Pike" was allegedly only an hour or so away via Kendal 🙂 so we headed there. Paul was well prepared for climbing Scafell Pike – possessing only a thick hoody and no gloves nor hat nor much else. I'd hiked up a hill in freezing Snowdonia the week before and despite telling him this and recommending to really buy at least a coat, hat and gloves, he casually said he would buy them today. We parked in Kendal town centre car park and after a quick coffee buy, headed to Trespass to buy some gloves – the girl in her 20's delightfully informed us that it was highly dangerous to even consider going up Scafell today! as it was at least 3 arduous miles up there, that it 'gets dark by 3pm' and how she'd been up another peak on Sunday and it was covered in thick snow and ice and the mist is so thick up there you can barely see your hand in front of your face! also if you take the wrong path, it could lead to the alternative 9 miles long route and take 10hours! By the end I was waiting for her to mention wolves and the beast of Bodmin, such was the level of utter madness she explained it would be to attempt such a thing today…I kind of disagreed with her, but just muttered to Paul every now and again. Anyways, Paul declined her offering of £55 ski gloves to help the situation, but he did purchase a most fetching wooly hat! Annoyingly there wasn't enough signal to send a stupid Facebook message to my church friend and Kendal-native Kelda, but driving out the town centre woke me up enough to realise we'd been going in totally the wrong direction! we should've been heading for Wasdale Head, not just "Scafell Pike"!! On Google Maps "Scafell Pike" is the 'other' side of the mountain, the wrong side of where we wanted – that's the 9mile walk side! As in all the best situations, Google Maps went AWOL, but eventually came back, saying we were now a good 1.5hours away from Wasdale! Hoorah! Eventually we followed a random B-road route cross country via Coniston Water. The countryside had changed quite remarkably from Lancaster, the hills were alive. We drove miles through countless ever-narrowing country lanes, endless blind bends and hill tops, down 14% gradients and up super-steep inclines – many, with beautiful views, causing us to stop several times and take photos.
The Climb Begins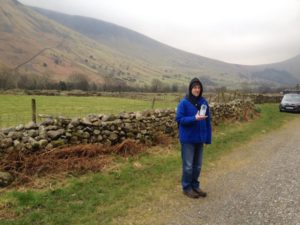 We finally got to Wasdale Head only 2 hours later than hoped, around 1:15pm! 😀 The lady in the Wasdale Head shop was more stoic with a "oh you'll be alright, by the time you come down it'll be dark but that's not til 5pm, see how far you can get". I agreed with this lady more than the one in Trespass 🙂 There was also a cool, very simple, summit map on the wall outside – a lot easier to read than my Ordinance Survey map! After buying some essential Kendal Mint Cake, hurriedly packing my pack with necessaries and finally convincing Paul to borrow my spare ski jacket and ski gloves, we were ready. The bonus after observing the terrain and mist covered hills surrounding us, was that it was starting to dawn on Paul, that this hike, perhaps, did require more clothing than just a hoody! We finally started walking around 1:50pm. Despite my warnings, advice and encouragement, then followed approx 30mins of overly quick walking, followed by complaining, sweating and moaning about "why do people do this?" and exasperations of "do they actually do this for fun?" from Paul. I think we had walked half a mile max at this point. We turned a bend on the path, which led to a glorious view of the path winding upwards, it went up and up, into some ominous low-level mist clouds! I found this quite amusing, as Paul could now see and appreciate the gigantic size of this place! I fear he had assumed, like anybody that hasn't done this kind of thing before, that climbing this mountain was going to be a quick wander up some hill and that the map legend saying it was a 2.5hour hike was a joke – I mean, the path is only 3 miles long and and you can easily walk that in less than an hour, Right!
The Rain and Mr.Sensible
It started to rain as we entered the mist cloud level. Another 15mins or so and we met our first person coming down the path – a guy in his late 20's, in just a light coat and no pack. He gave us some positive encouragement, "yeah the rain goes on, but higher up it stops and you'll be fine once you're past it". We then met this older guy who was less up-beat. He'd injured his ankle walking an alternative path, before deciding to hobble back down for the past 45mins. He only told us he was injured after telling us how difficult and treacherous it was "up there".
It has to be said the rocky path down looked very wet and very slippery, far more than when I walked down the path 10 years ago in December 2007. This did concern me somewhat, but I kept quiet.
Due to the constant rain, we both looked quite bedraggled, but oddly it wasn't cold at all. This made it perfect timing for Mr.Sensible and his girlfriend to turn up! they were in their 20's and he was a very nice guy, but very grown up! they'd evidentally gone up at a sensible time and were now descending at a sensible time, as that was sensible! He asked, nay demanded, "you're not going up to the summit, are you?!" (almost implying – I'm not going to let you go up there), he frowned, sighed and added, "…you really need the right equipment to go up there!". Paul's first words were "yeah I know, I thought wearing jeans would be a laugh!". This was highly funny, but Mr.Sensible did not smile, he was more shocked at the waterlogged look of the two of us and seemed very concerned we weren't immediately turning right around and joining him on the way back down. He then told us there was "lots of snow, lots and lots of snow up there", his girlfriend re-iterated "yeah lots and lots of snow, lots of it". He added that it was zero visibility conditions up there too! His last effort, after looking stunned at my orange/grey trainers, was "You must have very wet, freezing feet!!". At this point I did sympathise, as he must've reckoned we were totally clueless idiots(not a bad assessment really), so I tried to reassure him that my shoes were actually waterproof fell running shoes + I had bonefide ski gloves on me! he kind of gave up at this point and they headed off, shaking their heads, convinced we'd undoubtedly be needing helicopter rescue within a few hours. I didn't mind, he was just trying to be sensible, which is fair enough, but sometimes you can't help two clueless idiots like us lol. I was actually quite concerned my fell running shoes wouldn't grip the slippery stones on the way down, but he who dares wins and all that. I should say, despite being unprepared clothing-wise, Paul had some very good Timberland walking boots, much better than my shoes to be honest.
The next and last people we saw on the path were a mother, father and their two 4 and 6 year old sons gingerly coming down the path. This inspired Paul to say "if a 2 year old can get up there, so can I!".
Just after this, I suggested we rest a bit and eat something, for energy. At this point I managed to weigh Paul's backpack, only to find it weighed a ton! no wonder he was sweating so much! he'd brought his tablet and 2kg phone charger with him, along with numerous other heavy objects! I transferred some of this stuff to my pack and we continued.
The Snow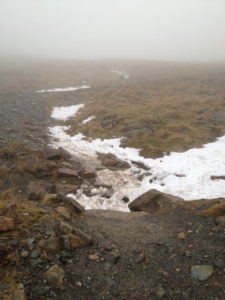 We proceeded on and Paul moaned less, as he got used to the constant exercise and terrain. We came to the bit where you have to navigate the path via cairns(piles of stones) and we only got past this bit because I remembered it from last time. It was moderately challenging. Mr.Sensible was kind of correct about the visibility, the thick mist made it difficult to see the next cairn. We hit the snow line – where I noticed the snow on the rocks above us increased in prevalence. I started to fear Mr.Sensible might turn out to be even more correct, but tried to ignore this.
We went up and up until the path leveled out. We plodded on and on, until bizarrely the path started to go down hill, which didn't seem right. Phone GPS's were consulted and I tried to look at my OS map, but neither worked! after a few more yards we realised we had no idea where we were, so we posed for some photos and headed back. We then happened across the blinkin' correct path up to the summit!! it was SO obvious, we'd walked right past it and had wasted 15mins with that wrong way! I asked if we could walk a bit of the way up and have a look, which we did, but it was after 4pm by now and had gotten very cold + visibility was very low. So, we took some photos and decided we'd turn back after all. This was a mutual decision – I could tell by his words, concern about not being able to get back before dark was on Paul's mind and I too was more concerned than usual. Not so much for myself, as last time I'd had to hike down in the dark on my own, but more that I knew the slippery rock path part would be difficult to navigate, especially if you were new to this kind of thing and in the dark, serious injure was possible! I wanted to make sure that didn't happen, if only to stop Mr.Sensible proclaiming how right he was all along. Having to turn back was a shame but not a big deal, I was most impressed that Paul seemed perfectly fine now and we'd had great fun thus far! Our clothes were even dry due to the altitude and atmosphere!
My fave highlight on the long way back was coming to the snow river crossing – quite high up, a narrow river splits the path at one point. You have to cross the river via some rocks, but due to the altitude and cold, the river was largely hidden under thin ice and thick snow! At this point, a perfect timing of tiredness and dimming light clogged Paul's mind! the light meant the grey rocks of the path faded into the mountainside and the snow filled river now suddenly looked the most "path-like" thing around to follow and he mistook it for the path and started lunging up the river! It was very funny as he plunged through the snow, up hill, to a point where I had to shout "oi! where are you going? the path's over there!".
We made it past the cairns area, several times having to wait for the mist to clear enough to see the next one. Have to say making it past this area in the dark, with a torch, would've been crazy.
The Path Back
We then got to the horrid slippery, wet path bit. Paul sensibly stuck to the rock/stone/gravel path, his Timberlands were made for this, but my Columbia's weren't and I considered it highly dangerous to even try! Luckily, I remembered my tendency to be able to cover ground quickest by striding/running/balancing down the grassy sides of mountain paths rather than on the paths themselves, where the stones get in the way. It allows me to move quickly, but stop often to admire and enjoy the view, which was improving all the time as the sun was setting! This balancing technique does tax the knees, but in the shoes I was wearing, it was far safer than the wet rocks.
We spied 2 people ahead join from an alternative path, they were really speeding down the mountain, clearly a lot more keen to get back and were soon lost from sight.
About half-way down, it dawned on me that Paul was now somewhat worried about the darkness kicking in, as he was speeding up significantly.
I tried to tell him to take it easy, I said slow down, we have time, but he was unconvinced. Suddenly there was a loud crack and an yelp of "argh!". This was the sound of Paul being welcomed into the real world of hill hiking, as he slipped and fell on the rocks! He landed on his backside and bruised his hand, but he was alright, thank goodness! found out later his Lynx deodorant was severely dented, having taken the brunt of the fall and probably saved his coccyx. He fell a few more times on the way down after this! It turned out things weren't helped by him not wearing his glasses! he'd put them in the side of my backpack on the way up(they kept steaming up) and one of the arms had broken off, so he had no choice but to soldier on, squinting to see the way in the ever fading light.
Lost in the Pitch Darkness
I kept claiming that I'd walked down in darker conditions back in 2007, but must admit this was now worse! it was becoming properly dark and Paul was convinced we were still miles from civilisation and the lights we could see in the fields below were miles away. We had a small argument about which one of the 2 lights on the horizon was the pub and which was a hotel(he was right, I was wrong).
We made it to the one sign post on the trail, which meant we were nearing the end, but Paul had kept count of the number of gates and was once again unconvinced, he reckoned we had 4 more to go and he was right(again)! We descended to ground level and got to the final gate. From here I vaguely remembered you could walk straight out onto the road, near where the car was parked, but the only path I could see ran by the river, so assumed that must be the way. Mistake #1! Thanks to this we ended up walking at least another mile through random fields in what became total and utter pitch darkness! We realised we'd gone the wrong way, so we cut through some trees and headed towards one of the few lights around – it turned out to be a farm house and I could see my car just beyond it. The major problem was getting to the road involved scaling a wall, a stack of crates or a large field gate, which was too much effort at this point. To be honest I was worried Paul was in no condition even to attempt this and was none too keen myself. So, we tried to find a short-cut. After walking back and around the farm house, we found a latch gate, but it was tied shut with rope and I couldn't figure out how to un-tie it. Paul has been in the USA the past 2 decades and thought the farmer might shoot us too, as we were trespassing, so we tried to find another legal way out to the road. Another 10mins of wandering in the dark and being blocked by stone walls, then walking over broken stone walls and into another field bordered by stone walls, I decided enough was enough and insisted we head for the farmhouse again. We got to the latch gate and this time I managed to untie it, in total silence, saying I'd take any responsibility if we got a "Hey! We don't like your type round here!" shotgun style reception. Luckily we did not…and the car was just a short walk away.
The Pub and Pie
We drove to the pub. I remember 10 years earlier staggering into this pub, after having gotten lost in the mountains for the entire day that time and having a Guinness and pie, probably the most grateful for and best pie I've ever eaten. This time was similar, except I was only mildly tired, whereas Paul was the completely shattered one! haha! Also the pie this time had much less steak, as in I had 1 smidgen of steak in mine and that was the sum total of steak in both pies! It was still a darn nice pie though.
We drove back the 20mins in total darkness and checked in to our hotel – the most excellent "Strands Inn & Brewery" where we then had a few more pints of local made beer before retiring to bed!
Thu 16th Feb 2017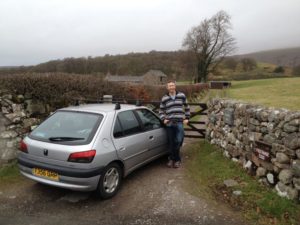 The final day of our trip. We both awoke feeling fine, Paul said despite the previous day's exertion, his legs were 'alright'. Had a wonderful breakfast in the pub and began the drive home. First stop was down the road at the Murt Camping Barn where I'd stayed 10 years previous, it didn't look like it had changed that much. We then took a random detour, we kind of gave up bothering to look at any maps or judging which direction we were going in, but somehow ended up at this cafe/restaurant called The Byre – in Bootle, no, not in Merseyside, but in an area called Copeland. I spotted a local newspaper with Theresa May on it and apparently she had indeed just visited, in the run up to some election! Next up was Lake Windermere, as Paul had kept mentioning visiting this place when he was younger. He was very happy to see this place once again, but I became obsessed with finding "The Bobbin Mill" as it was on every sign we seemed to pass. It was a staggering sight once there, but was closed – oh Bobbins! Next stop was Low Sizergh Barn, a farm shop place where you could have a tea, eat some cake and watch cows being milked, live. I bought some sausages, had tea/cake and watched the cows being milked. Following these events we proceeded south, eventually stopping for food and a tour of Wolverhampton. The Royal London pub was a great place and a fine dinner was consumed. Final coffee stop was around 10pm at the same service station we stopped off on the way(I think), then home around 1am and that was that!
Google Map of where we went on Scafell Pike