This is a fine and most nice tasting chickpea curry recipe. Invented this back in 2018 by modifying two recipes for chickpea curry from the BBC Good Food website – motivation was having an old tin of chickpeas in the cupboard and they are meant to be very healthy etc.
Cook time: about 45mins.
Ingredients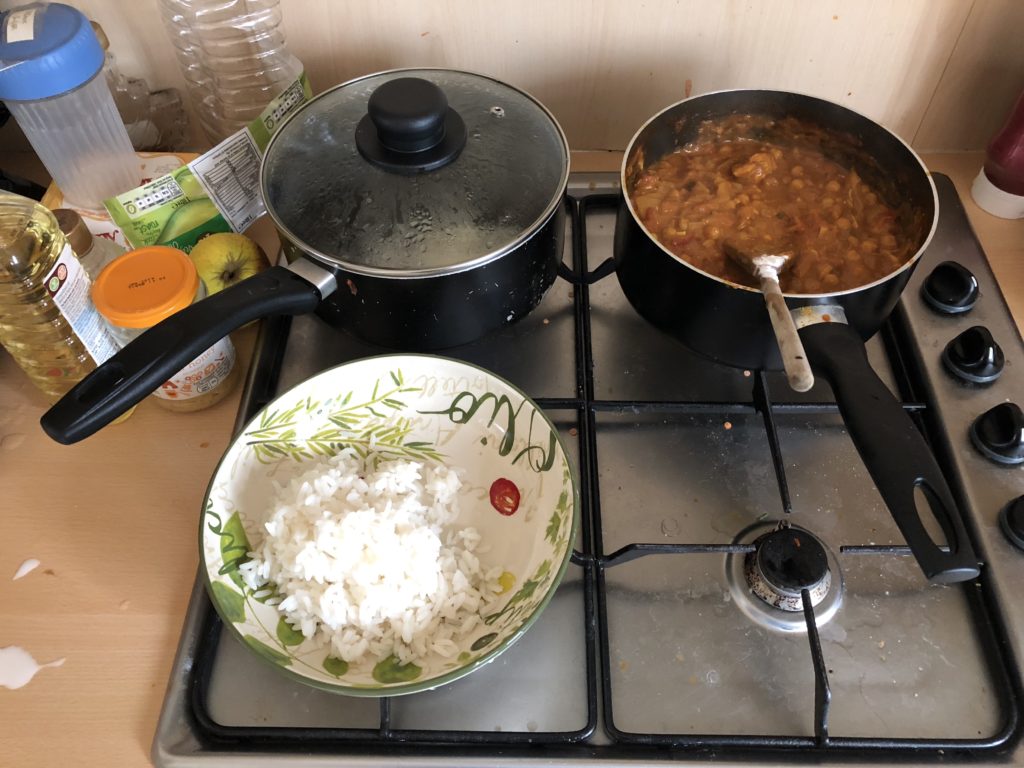 1 or 2 chicken breasts cut into chunks
some vegetable oil
1 x chopped onion
2 x garlic cloves
1 x sliced carrot
2 x chopped celery sticks
1 x tin chick peas
1 x tin chopped tomaotes
1 x tin coconut milk
Spices 1tsp each: Tumerick, Garam Masala, Curry powder, Cumin, Ground Coriander, Ginger, small bit of chilis if you want
some cornflower to thicken the sauce
Method
Heat pot
add oil
add chicken, stir fry and cook for 3 or 4 minutes.
add onions
add garlic, stir and cook for 5mins at least to soften the onions
add 1 x sliced carrot
add 2 x chopped celery sticks
Add a cup of water, Stir a bit and allow to cook for 10mins at least
Next add 1tsp of each spice :
Tumerick
Garam Masala
Curry powder
Cumin
Ground and/or chopped Coriander
Ginger
Add a small bit of chilis as well if you want! 😎
Add a drop more water, then Stir this all together and cook for around 3 minutes. This is like your curry base.
Now for the chickpeas!
Add 1 x tin chopped tomatoes
Add 1 x 300g tin Chickpeas
Simmer for least 10mins
add the tin of coconut milk + some pepper
Stir together and Cook for at least 10mins
add 1 x tbsp cornflower to a bit of water, mix, then add to thicken and mix in, cook for another couple of mins
add chopped Coriander
Cook for more 5mins…nearly there….done!
Serve with boiled rice and Enjoy your chickpea & chicken curry!
First made 25/5/2018 and written up on 20/6/2018.
This recipe is based on two recipes from BBC Good Food :
Chickpea Curry
Tomato & chickpea curry
Thanks for reading,
James