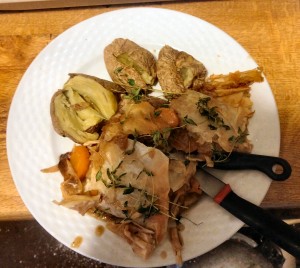 I literally chucked this thing together and the result was a most top, tasty and delicate home-made pie!
try it out and impress your friends!
Serves about 2 people.
Ingredients:
1 x cooked chicken breast *
2 x carrots (peeled and sliced)
1 x large onion (diced)
1 packet of ready rolled filo pastry – or about 4-5 sheets!
Cooking oil – be it olive, sunflower, whatever, to brush over the pastry
2-3 tablespoons Bisto gravy granules
Optionally:
sprinkles of black pepper, Herbes de Provence
some thyme to garnish (if you have any spare)
Utensils:
1 x medium saucepan, 1 x medium oven dish (to bake the pie in), a wooden spoon to stir, a knife/fork/plate to serve 😉
Cooking time ~35mins :
20mins boiling the onions and carrots
3mins boiling the gravy
15mins baking the pie
* if you haven't cooked the chicken breast and don't know – it takes about 20-25mins to oven cook at 200degrees a chicken breast or two. Perhaps put the chicken in the oven, whilst you're boiling the onions/carrots.
Background:
Last month I ended up making a filo pastry "white wine, chicken and artichoke pie" that I got from the Good Housekeeping Cook Book. Did this for the church group I lead for an end of year meal, all because my friend Alanna suggested why don't I make something – so I did that and was majorly surprised at the result.
Until the panicked cooking time before cooking this group meal, I had no idea about Filo pastry – but soon discovered it costs about £1.45 a packet from Sainsburys and is very easy to use! You can use either the 12 x sheets Sainsburys or 6 x Jus-roll brand sheets – the sizes are slightly different, but really it doesn't matter, I know because I bought both types just in case!
Anyways today I realised I still had 2 packets of filo pastry in the fridge + some chicken breasts – so I thought why not attempt to make my fave dish – some kind of chicken & gravy pie! here's how to make it…
Cooking Steps :
Half fill the saucepan with water and put on stove to boil.
Peel carrots and slice them. Add them to pot (aka saucepan).
Peel and slice/dice the onion and add it to the pot.
Boil carrots/onions for 20mins. Stiring or swirling occasionally.
About 10mins in turn on the oven to 200degrees – pre-heating for the baking part!
Hopefully by now there'll be enough water left to make some gravy, if not add some extra. You don't want thick gravy, you want medium thin.
Add 2-3 tablespoons of gravy granuels to the pot. Stir it all round.
Cut the chicken breast into small chunks – I used my hands to do this or you can slice it however you like. Drop it into the pot.
Add some black pepper and herbes de Provence if you like.
Stir it all up a bit, not too much though.
Continue boiling for a few mins longer, until gravy has thickened a bit.
Pour a bit of the oil into the oven dish and rub round with your hands.
Place a couple of layers of the filo pastry around the dish.
Empty the saucepan into the middle of the dish.
Wrap the pastry around the mixture, so it's covered – pie-style.
Pour/rub some more oil all over the top of the pasty.
I had gravy leaking through the pastry at the point, so place another couple of sheets around and then glaze it with more oil.
Put the dish in the oven and bake for about 15mins!
Done!