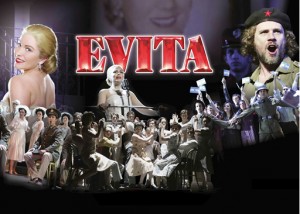 Went to see 'Evita' at Wimbledon Theatre last night. The smash hit musical of the remarkably interesting life story of Argentina's first lady Eva Peron was an excellent production and thoroughly enjoyable! The lead, along with the guy who played her husband Juan Peron were superb, her rendition of the timelessly emotional 'Don't Cry For Me Argentina' was thrilling as well as enthralling. Ché Guevara was pretty cool too, this guy did an incredible job as narrator for the story and was endlessly entertaining. I won't say too much on these three, as you prob get the picture, the performance from the rest of the cast was flawless too from their dancing to the group singing. Evita's first boyfriend was a class act too and I must look up who Juan's mistress was, she was only in it a short time but her "So What Happens Now?" piece was stunning, with a unique voice like that she could have a career to follow. hmmm.
Only thing is I'll have to read up on Mz Peron now, can't believe she died at only 33, rising from literally nothing and nowhere at 15 to national celebrity and wife of the president by the time she was 26. Apparently after her death her body left Argentina for 17 years only returning after Peron re-entered politics there. Tim Rice stumbled randomly upon the story and the rest is history.
Top marks again Wimbledon Theatre!