I was really in the mood for something quick and preferably noodles. I didn't have any peppers or bean sprouts, but thought I'd try see what I could cook up anyways. I also used a non-stick saucepan instead of a wok! Turned out to be delicious, perhaps even better than with the bean sprouts.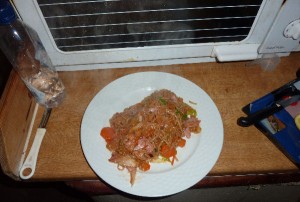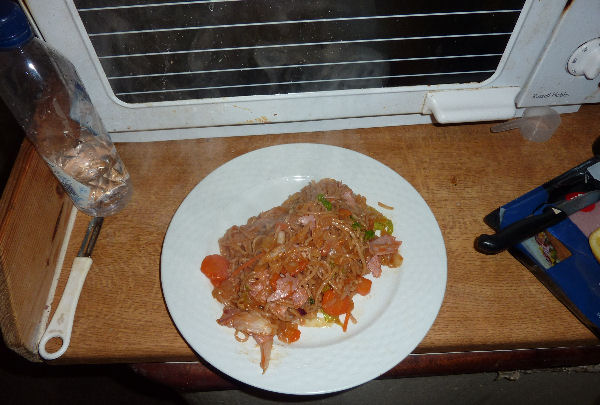 Ingredients (names/specifics are only here for reference, you can use what you like):
olive oil
1 small onion chopped
1 clove organic garlic chopped
half an organic carrot chopped
small dollop of tomato puree
some water 😉
1 x nest sharwoods noodles
1/3 lemon's juice
Blue Dragon oyster sauce
Blue Dragon soy sauce
Schwartz ground ginger
unrefined cane sugar
2 slices Morrison's carvery cooked ham
1/4 pack Morrison's simple side salad (endive, radicchio, carrot and cabbage).
Cooking The Dish

heat non-stick saucepan with small amount of olive oil
add onions + garlic to pan, fry for 3mins
add 1/3 of the carrot
add a small amount of tomato puree (hey it was to hand) and mix
add some water and reduce heat to level 1 (quite low)
boil some water in another pan, add rest of carrots and when boiling, add noodles
cook noodles for 4mins
meanwhile remember to keep stiring the onions/garlic to stop them burning.
drain noodles/carrots and add them to the onions/garlic,
turn up the heat to max! 🙂
stir liberally until onions are mixed in with noodles
add a good tbsp oyster sauce and stir, adding water if it's getting a bit dry
add tsp of ginger, stir
add tsp soy sauce, stir
add half tbsp cane sugar, stir + add some water
add in 1/3 lemon's juice
add bit more oyster sauce and some water and stir til it's all hot again
add 2 slices ham, stir 🙂
add handful salad mix for 1minute, stir again and stir/cook for one minute
serve!
TA!DA!
P.S. I say tbsp/tsp but personally I just chucked it in the mix, guessing.