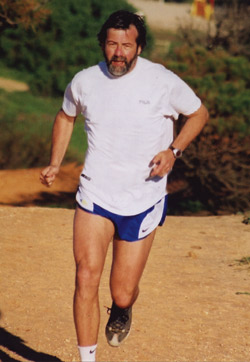 Tonight I got to run round the sights of the capital city with a London Marathon Winner! 1983 London Marathon Winner 'Mike Gratton' in fact. oh 1983 you say, well this guy ran the Marathon in 2:09hrs!!! that's faster than the elite Brit runners run today, pretty good, no?!
Save the Rhino had most excellently organised this run with Mike for us and it was brilliant – about 12 of us turned up inc Adam who'd set it all up, though he refrained from running with us cos he had to 'look after our stuff' hehe. We met in a gym in London Bridge and after Mike showed us how to warm up properly, we did about a 5.5mile circuit from London Bridge up and over Westminster Bridge and back to London Bridge where we started. A bunch of the guys sped off ahead of us at the start and were obviously aiming for a quick run, but a group of 4 of us hanged back so we could chat to Mike, plus we were prob lot slower than the guys ahead, am not going for 2:09hrs this yr, perhaps next
. There were a couple of other girls too, but they went the wrong way down an alley half way and somehow ended up a bit behind us. Mike gave us some running tips and told us stuff about his training back in day – lots of repeated 400m's sprints etc!! It was a very nice run, taking in Big Ben, Houses of Parliament, the Wheel, glimpse of St.Pauls etc running over the Thames was cool too, pollution didn't seem too bad either. We finished with a drink and a superb pasta meal in the bar next to the gym. Mike gave us some very useful and interesting running tips. It was good to meet some other Save the Rhino guys too, really nice bunch, cheers Tristan and the girls for running with me
and Thanks so much Mike for a very inspiring night.
Check out 2:09Events which Mike runs – they do fun events like a marathon run over three days between vineyards in the South of France, yes lots of wine too!