I finally have a confirmed Virgin London Marathon 2011 place at last!
I phoned Adam Brown from Save The Rhino and he kindly gave me a place. I have to raise £1250 for them and any more over that target will go to the Rainforest Trust. I have to say that is less than the £1800 the Rainforest guys wanted me to raise so I'm not complaining one bit! On with the training then…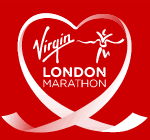 Ran 10km at reasonable pace on usual common route up to Tibbets Corner and back, tried listening to music this time, haven't done that for a while, but I was tired and felt like it, had to stop numerous times to sort out the headphone lead and trainers (may need new pair). Finished in about 52mins, hence lot faster than usual. Interested to see what my legs will be like tomorrow after pusing it a bit today.