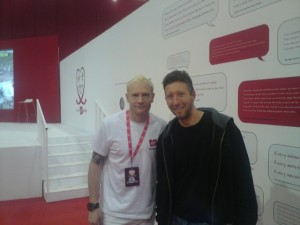 Attended the most excellent London Marathon Expo at the Excel exhibition centre in the docklands to pick up my marathon number, IPCO tag and to eat pasta at the Pasta Party! turned out to be rather good, lots of running equipment / food / holiday / foreign marathon exhibitors. Saw Mike Gratton the 1983 London Marathon winner again and met Iwan Thomas (the blonde/ginger guy who's the British 400m record holder). The Pasta Party wasn't quite what I expected, very nice meal, but not a huge amount of pasta tbh lol.
Bought a £5 Runners World belt bag to carry gels and carbo-energy bars when running + ended up buying a couple of SIS GO carbo energy bars (apple & blackcurrent + chocolate/orange) and a CLIF BLOKS gel bar + oh and some socks. Well actually ended up buying some rather expensive Falke RU4 Cushion running socks and then bought an even more expensive pair of Sky Run X-Socks, after this guy told me some European Olympic team use them or something, apparently they wick the sweat from your feet to your heel, have to admit these X-Socks did sound pretty incredible. Yesterday I bought some gel Sof Sole Massaging Gel insoles for my trainers and a couple of pairs of twin skin Hilly socks from Blacks that are meant to prevent blisters. Well this is kinda desperate times folks, it's 26miles on Sunday.
P.S. Since yday and the trainers trouble, flippin heck the nerves have been kicking in.