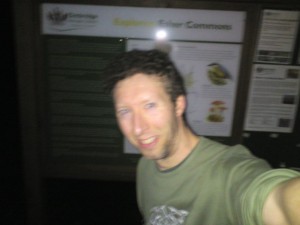 Whoosh!! 20miles to Esher and back. Due to work and other 'commitments' haven't had a chance to do quite as much running as I wanted, but when I heard Ben & Laura were doing an 18miles on Saturday, thought it was time to step things up, to put the Nike's to the road and what better run than to go to my favourite place Esher and back! Set off towards Raynes Park via Chase Alley, then to Kingston via Coombe lane, along the one way system to the river, along the left side (partly along the nice park toepath bit by the Thames) until Thames Ditton and then into Esher. Past Esher Common and into the town, turn left at the pub where the Rachel and I used to go sometimes, down that road, then all the way to the West End Common area carpark. I'd set off late afternoon and it was pitch dark by the time I reached here, lol, but here's a fine photo from it. After that headed back into Esher, bought a Lemon + spring water drink and couldn't resist the special offer rice puddings on sale! ironically Mike Gratton had recommended eating these, so had good excuse 🙂 I'd started combining running for say 40mins then walking a tiny bit and running again and at this half way point, I devoured the rice pudding whilst briskly walking along and then set off again in the direction of Hampton Court this time. Finally got there, despite not really knowing the way and it being very dark and then followed the wall back to Kingston. Over the bridge into the town centre, past the phone boxes, fighting fatigue I powered onwards up Coombe Hill and Coombe lane into Raynes Park and back to Wimbledon and home!! it was a strange feeling having run that kind of distance in 3:47hrs! and strangely to be honest it wasn't that bad, the 16.5mile a few weeks ago over all them hills seemed a LOT tougher, man that was tough, perhaps near my limit. Anyways as the park was closed, wandered into the tennis club to stretch things out (legs needed a lot of stretching out!). Mike Knepsl casually asked me where I'd been, oh just ran to Esher and back, yeah about 20miles I replied, you don't do things by halves do you he said, was very funny.
Well that's pretty much the biggest run I'm doing until the marathon itself ticked off! 🙂
UPDATE: Stair walking the next day was great fun (read:bit of a mission), legs took about 3-4 days to recover properly.
Click here for approx route map